Let's Travel Club visits the Dallas Arboretum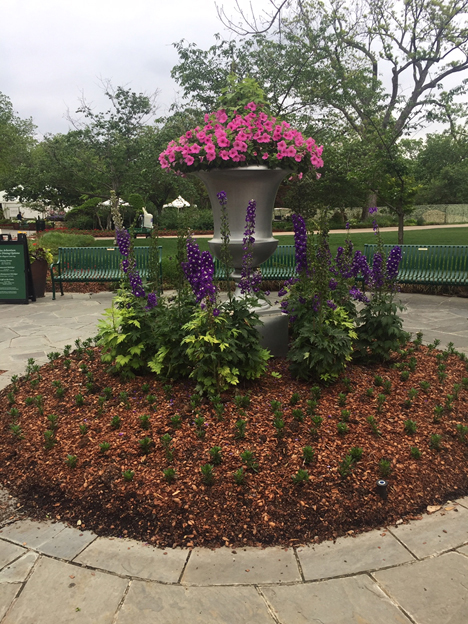 Let's Travel Club members and friends enjoyed a day trip to the Dallas Arboretum on Tuesday, May 4th. This excursion was the first day trip for the group in over a year. Luckily the weather was just about perfect for visiting the gardens – neither too hot nor too cold and no rain.
The February storm wreaked havoc on the azaleas, but there were still plenty of beautiful and colorful areas to enjoy. Arboretum staff members work tirelessly to maintain the gardens. We found the volunteers and guides to be knowledgeable and helpful. The Arboretum was a good choice to accommodate our traveling group.
The dining room terrace was a cozy spot for lunch as everyone enjoyed their selections. The area offered a view of the gardens and the Simmons Lagoon.
After enjoying the beauty of the gardens, the group stopped at Corsicana on the way back. The Russell Stover Chocolates retail store was a fun place to gather a bag of delicious chocolates to take home.
The travelers who took part in the voyage were: Ruth Pickens, Jackie Pickens, Sandy Robinson of Dew; Charlene Ezell, Loy Newberry, Alicia Smith, Eddie and Karen Smith, Sue Terry, Mary White of Fairfield; Debra Franklin, Mary Belle Leach, Donna Mitchell, Martha Stone of Groesbeck; Glenda Stone of Kosse; Dawn Price of Mexia; Denise Pike from Palestine; Joycelyn Calame of Wortham; Mary Jo Isenburg, Diane Jones, Betsy Metcalf, Judy Wardle of Streetman; Lynda Mitchell of Tehuacana; Diana Bradley, Pat Farrell, Ida McBride of Waco.
The Let's Travel Club has multiple tours planned with Collette for 2021 and 2022. The 2021 tours include a Colorado tour and a Scotland tour. The 2022 tours include two events that take place every ten years. As tours and events were canceled in 2020, those two were postponed to 2022 – the Floriade which includes the Chelsea Garden show in London and the gardens in Amsterdam, then there's the Switzerland, Austria, Bavaria tour which ends in Oberammergau to attend the Passion Play. For more information on any of these tours, contact Jerri McBay at 903-388-2243.