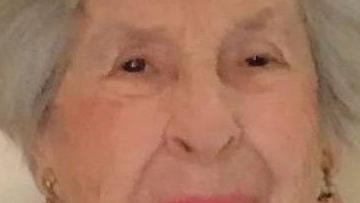 Obituary Friday July 16, 2021 | Obituary
Elizabeth 'Betty' Chester
Elizabeth "Betty" Bagby Chester passed away peacefully on July 12, 2021, at the age of 99 after a long and fulfilling life. Born March 7, 1922 in Johnson City, Tennessee, she cherished her 60 years of life on the Music Hall farm in the community of Keswick, at the foot of Virginia. Betty was known for her warmth, ability to inspire others, creativity and leadership in her family, community and workplace. After graduating from high school in Johnson City, Tennessee, she received a bachelor's degree in home economics from East Tennessee State University and a master's degree in special education from the University of Virginia. She was the epitome of Rosie the Riveter to Glenn L. Martin of Baltimore during World War II, where she met her husband, Don. After the war, Betty worked in retail in Montgomery Ward, then at the Miller & Rhodes department store in Charlottesville, where she rose to the level of assistant manager before resigning to raise her two young daughters. She then became a lawyer and teacher for students with special needs. His kind and efficient way of teaching students was legendary. Community service has always been an important part of her life. Serving as the volunteer director for the University of Virginia Hospital Auxiliary in 1967 and as a member of the planning committee for the centennial celebration of Grace Episcopal Church in 1996 are just a few of the many roles that Betty has played over the years. She retired from teaching in the Albemarle County school system at age 62 and volunteered with Grace Episcopal Church and the Keswick Garden Club for decades. Her flower arrangements were often ribbon winners. Betty enjoyed gardening, playing bridge, bird watching and most importantly, her vast network of family and friends. She lived enthusiastically, organizing family trips to bird watching in Trinidad until she was 90. She has been a role model for her two daughters and their families on how to live life to the fullest and accept life's obstacles with determination, humor and courage. The fourth of six children of James Willis Bagby and Lucille Shuford Bagby, Betty was predeceased by her parents; her husband, Donal Gordon Chester; and four siblings, James Willis Bagby, Lucille Bagby Elliott, Virginia Bagby Adams and William Robinson Bagby. She is survived by her brother, Robert Ward Bagby; his daughters, Ann Chester McGraw (James Bryan McGraw) and Barbara Chester Little (Lawrence Emory Little); her five grandchildren Ian Carmichael McGraw, Trevor Lee McGraw, Lindsay Little Gray, Caitlin Ann McGraw and Allison Emory Little; and four great-grandchildren, Liya Zhu McGraw, Reiya Zhu McGraw, Bodhi Carmichael McGraw and Virginia Lindsay Gray. The family is grateful for the competent and compassionate care Betty received from the staff at Shannondale, Dr David Knoll and Heather Shannon with Amedisys Hospice. A memorial service will be held at the Grandview Pavilion and Legacy Trail in Maryville, Tennessee on September 5 at 2 p.m. with Reverend Emily J. Anderson as officiant. In lieu of flowers, memorial gifts can be made at Grace Episcopal Church, PO Box 43, Keswick, VA 22947 (online donations accepted at gracekeswick.org).
Wednesday July 14, 2021, Shirley Patricia Mason Law, a loving wife and mother of five, died at the age of 88. Shirley was born on June 22, 1933 in Alcoa, Tennessee, to Melvin Jennings Mason and Patricia Edna Hicks Mason. She graduated from Alcoa High School in 1951, where she was active in a band as a majorette and played French horn, stage performances and lifeguards at the Springbrook Pool in Alcoa. On February 10, 1951, she married her high school boyfriend, Henry David Law. Together they raised three sons, John, David and Paul, and two daughters, Melinda and Amy. Shirley loved and was deeply loved by her family and friends. She and her family were involved in many outdoor activities: swimming, biking, hiking the Smoky Mountains, traveling to various parts of the world, sailing and scuba diving with Muncho Tours, fishing and even ziplining for her 85th birthday. She was a fabulous host, a cook and loved to entertain her family and friends. Shirley has volunteered over the years as leader of Girl Scout Troop 47 (along with Naomi Hartman); cooked for Hurricane Hugo workers; as a Pink Lady volunteer for Blount Memorial Hospital as a newborn, intensive care and palliative care photographer; and volunteer for the Windy Gap Young Life Camp store. Shirley and Henry were members of First Baptist Church in Maryville for sixty-eight years, and they attended Cedar Springs Presbyterian Church in Knoxville, where they were members of the Emmaus Sunday School class. Shirley was predeceased by her husband, Henry; his father and mother, Melvin and Patricia Mason; and his brother, Jon Mason. She is survived by her brother, Mike Mason of Alexandria, Virginia; Brother Pete Mason and wife Marion, of Aurora, Colorado; his five children: John Law and Jarrod Blue (Knoxville), David Law and his wife Vicki (Maryville), Paul Law and his wife Carol (Maryville), Melinda and her husband Tom King (Kingsport) and Amy and her husband Rex Dale ( Lenoir City); her six grandchildren: Amanda, Adam, Caleb and Curtis Law; and Grant and Reed King; and two great-grandchildren, Emory King and Carter Law. Instead of flowers. Shirley's family are requesting donations in her honor to Blount County Young Life (PO Box 5284, Maryville, TN 37802, (contact Tim Teague @ 865.405-6527 with questions about donations). Shirley's funeral will take place Held on Saturday July 17, 2021 at 3:00 pm at the Grandview Cemetery Pavilion, 2316 Graves Road, Maryville A Celebration of Life Memorial Service will follow on Sunday July 18 at 2:00 pm at the First Baptist Church in Maryville with the reception of friends to follow the service. Smith Funeral & Cremation Service, Maryville, 865-983-1000, www.SmithFuneralandCremation.com.
Johnny lee mccoy, born November 18, 1948 in Locust Grove, Oklahoma, died at the age of 72 on July 10, 2021, at his home surrounded by family. He was predeceased by his father, John Raymond McCoy; mother, Ethel Mae Wycoff; and her six siblings, Eugene, Troy, Rosie, Betty, Dale and Terry. Johnny is survived by his wife of 49 years, Patricia, his sons, Randy (Rebekah); Grinding wheel; Matthew. Johnny loved and was dearly loved by his 8 grandchildren and 6 great grandchildren. One of his favorite things to do was sit them on his lap and drive his John Deere mower. Johnny was a pious pastor of his flock for 32 years at the First Baptist Church in the North Pole, and for the previous 8 years he was the minister of 8 buses that operated even in extreme temperatures down to -60 below zero. Johnny wore many hats such as Alaskan Air National Guard Assistant Chaplain, North Pole Mayor; Police chaplain for the North Pole; Vice-President of the Alaska Baptist Convention, Moderator of the Tanana Valley Baptist Association, and Director of the North American Mission Board. He was on active duty in the United States Air Force and transferred to the Alaska Air National Guard in 1976 and retired in 2006. On September 3, 2001, Johnny flew to on a super bear cub with his forever hunting companion, Gary Corle, to go hunting for two weeks in the Alaska Range. The next morning we started a 3 mile hike, crossing streams, walking through potholes and thick trees. Johnny was behind Gary about 20 feet away when a Grizzly sow loaded Gary, then turned his attention to Johnny. Johnny later said the sow had hot, putrid breath, her teeth scratching against her scalp and the cry of her cubs above her head that he would never forget. Johnny ended up with over a thousand stitches on his head and face alone. God showed his glory through Johnny as he shared his story around the world. He was a current employee of Memorial Funeral Home. A Celebration of Life is scheduled for Saturday, July 17, 2021 at 2 p.m. EST at Memorial Funeral Home, Maryville, Tennessee. A simulcast will air at First Baptist Church North Pole at 10 a.m. AST. David Haun will officiate. The McCoy family would like to extend their sincere thanks to Dr.Christopher Barber, the doctors and nurses at the University of Tennessee Medical Center, the Blount Memorial Hospice, all the cards and the delicious meals provided by loving friends of the Sevier Heights Baptist Church. Condolences can be presented at www.maryvillememorialfuneralhome.com
Melissa "Missy" Ann Myers, 55, of Maryville, passed away suddenly on Monday July 12, 2021. She was predeceased by her mother, Wanda Jones; father, Glen Yearout. She is survived by her beloved husband, Lloyd "Moe" Myers; stepfather, Carl Jones; sister and brother-in-law, Jan and Johnny Stinnett; half-brother and sister-in-law, Eddie and Mary Jones; goddaughter, Sheena Pilkey; beloved niece, Brittany Stinnett; sisters-in-law, Brenda and Teresa Myers, Linda Brewer; brothers-in-law, Mike and Roger Myers; special cousin, Ronnie Whitehead; many uncles, aunts, cousins ​​and her four-legged angels, Roxie and Tedo. Friends can stop by to sign the book and pay their respects from 8:00 a.m. to 4:00 p.m. on Friday, July 16, 2021, at Smith Chapel. Family and friends will gather at 11 a.m. for the cemetery service and burial on Saturday, July 17, 2021 at Clarks Grove Cemetery with Pastor Carl McGill as officiant. Smith Funeral and Cremation Service, Maryville, 865-983-1000, www.SmithFuneralandCremation.com.
Ruth lane prewett, 100, of Maryville, died on July 11, 2021, in Shannondale of Maryville. She was born in Greenback, Tennessee, and was a graduate of Maryville College. She was an active member of the Presbyterian Church of New Providence during her adult life and sang in the Chancel Choir. His love of music was shared through his beautiful soprano voice. She was predeceased by her husband, Robert Prewett. Survivors include son, Gary Prewett, and daughter and son-in-law, Ann and Bill Harris, all of Maryville; sister and brother-in-law, Barbara and Gilbert Hartsell of Lenoir City. A memorial service will be held July 18 at 2:00 p.m. at the Presbyterian Church in New Providence with Reverend Dr. Emily Anderson officiating. The family will receive friends after the service at Westminster Hall. A private burial service will be held at Grandview Cemetery. In lieu of flowers, memorials can be made at the New Providence Presbyterian Church Music Program, 703 W. Broadway, Maryville, Tennessee 37801 or St. Jude Children's Research Hospital, PO Box 50, Memphis, Tennessee 38101. www.mccammonammonsclick.com 865 -982 -6812
Christophe spiva, 41, of Maryville, died on Friday July 2, 2021. He was predeceased by his paternal grandparents: Theodore & Dorothy Spiva, and his maternal grandparents: Samuel and Irene Pryor. He is survived by his father: Thomas Spiva, and his mother: Beverly Orr, his sister and his brother-in-law: Lindsay & Jeff Claxton, his niece: Avery Claxton, his nephew: Wesley Claxton. The Graveside Memorial Service will be held at 2:00 p.m. on Sunday, July 18, 2021 at Cedar Grove Baptist Church with Pastor Gary McCammon as officiant. Memorial Funeral Home Maryville is in charge of the arrangements. Condolences can be made at www.maryvillememorialfuneralhome.com